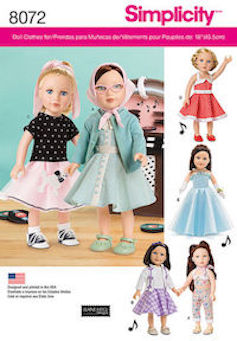 Rock and roll!
These little outfits are inspired by the rock and roll era of the 1950s. Get ready for school, prom, or a sock hop with this 18″ doll fashion pattern pack.
Make sweaters with socks
An extra special doll sweater can be made using an adult crew sock or a fine gauge sweater. Strategically place the pattern hemlines as shown below.
Make a doll sweater with a thrift store find
Rock and Roll!