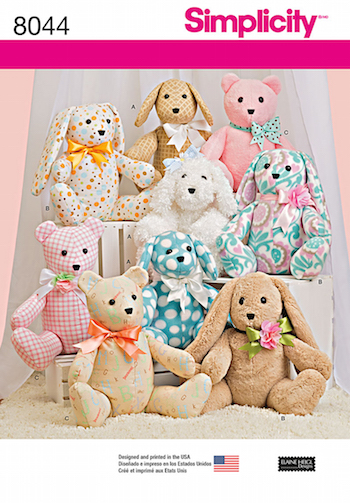 EASY PLUSH TO SEW
"Two-piece animals" are a great introduction to sewing stuffies. Once you get a hang of sewing these two-piece babies, you can easily make many….
Just to show that you are not limited to any one fabric; each bear, cat and dog are made in fleece, minky, and flannel. The styling of the animals displayed have baby appeal, but any age would be happy to receive a version of these handmade huggables!
FABRIC TIPS
Backing a fabric with iron on interfacings is an optional way to control the character of some fabrics you may want to consider for a unique design. Use backing for fabrics that fray or fabrics that are too stretchy, too slippery , too thin, etc. Interfacing can also add body or strength to a fabric.
Some Minkys and plushes stretch quite a bit, so an iron on lightweight knit interfacing can be a go-to remedy.
Flannel and quilters cottons sometimes are a bit limp and thin, so I like to use iron on batting to add a body and strength that I prefer to work with.
Fleece, works well on its own, and is probably the easiest fabric to use for these plush buddies.
A plush designer once said to me "furry fabric is forgiving". And I'm passing that observation onto you. Fur, being fluffy, often covers up what you may have thought was a sewing or design flaw. Let me know if you agree! Curious yet a little intimidated to sew plush? Check out a little video and get some "armchair" experience.
If you are new to sewing faux fur, you may want to check out the blog post with a few tips about sewing plush.