As temperatures drop, fashion attitude and sassy character can be had by wearing the current beret and slouch trend.
FINDING FABRIC
So many beautiful sweater knits are now available. Can over-choice be a problem?.. No, just make many! If you need a start on a quest for fabric, check out the Elaine Heigl Pinterest folder "fabrics that stretch". Many pretty sweater knit finds are pinned there.
If you are passionate about a team or college, a slouch cap and scarf set are perfect for making a clear statement where your loyalties are. Check out the big box sewing stores, there are so many great team and college fleece prints to choose from!
MAKE A GIFT
The beret and slouch cap style is popular because it complements almost everyone. Searching for gifts to make? Consider a set of lovingly handmade fashion accessories such as some of these.
For more ideas to consider, check out these too…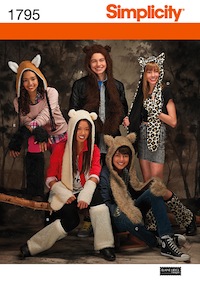 Have fun!
SaveSave