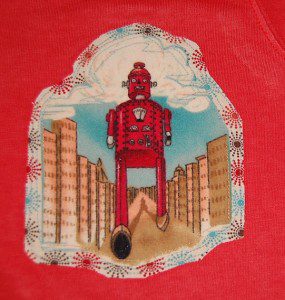 Its so easy to create an iron on applique patch to decorate clothing or accessories! You can make an appliqué with a printed fabric and fusible web as described here, or you can design your own appliqué using paper backed fusible web.
If you want a reason to explore a quilt shop, this is your excuse to go. Enjoy the amazing choices of prints and colors. You also can purchase fusible products there.
Equipment and tools needed: pins, iron, scissors, sewing machine
Supplies needed: fusible web, fabric with graphic print, thread
Directions are usually included with the fusible web, or use these easy directions:
First pin the fusible web over the fabric graphic. Cut out the web and graphic at the same time, using the graphic shape as your cutting guide.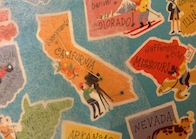 Re arrange so that the fusible web is on the wrong side of the fabric. Pin the pieces to the surface to be decorated. (Fusible web is sandwiched between.)
Using a presser cloth, iron on the appliqué. Use heat setting and steam according to your fabric type.
Finish the appliqué edges with hand or machine stitching. The robot appliqué above is finished and decorated with a machine straight stitch.
Experiment and explore fabrics and stitching effects from funky to refined, you can have a lot of fun making appliqués!