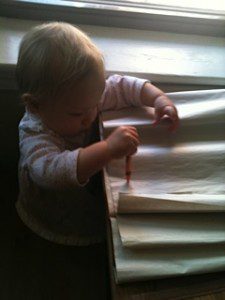 Sometimes I want to spruce up a plain t-shirt or onesie with something original.  Of course you can always buy one, but what's the fun in that?
My daughter, at the tender age of 1, was at my mercy when it came to what to wear.  I love elephants, so she got an elephant onesie out of a mommy's-day-of-creativity.
To make the elephant, I searched the web for an image.  I found a photo and my heart melted.  How cute are baby elephants!
First, I traced out the elephant, simplifying the shape to something I knew would work for an applique.
I wanted my tracing to be a bit larger,  so I guess-timated a percentage I needed to enlarge the graphic. (If you want to calculate enlargements or reductions you can use an online calculator such as the percent calculator on this site: calculator.net)
I adjusted my printer to a percent enlargement (150%) and printed it out. If you don't have this size adjustment feature on your printer it can be done at a copy shop.
Next I used paper backed fusible web (my new obsession!) to make and apply the elephant applique to a onesie.
I added an ear for detail, and a little heart for interest, because us girls love hearts!
For some reinforcement I hand stitched around the edges. A machine stitch is an alternative too.
Here's the finished product! I hope this inspires you to design your own applique shape, but feel welcome to use this one too.
Another option is to appliqué with a fabric graphic. Click here for instructions how.