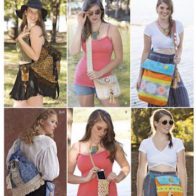 Batik fabric has had a growing presence in the quilting and big box sewing stores. Every time I passed the bolts of batiks I would think: "those beautiful organic colors and prints are an inspired design  just waiting to happen." Well it happened!
The accessories above were inspired by mixing and matching batiks for a free spirit style.
Batik also inspired the following "no-sew" festival  accessories. Easy projects to whip up!
Mix batik prints and make a stack of beaded 1/4″ strips to wear as a "necklace-scarf" or use as a trim. Click for instructions
Make a comfy headband with just a few 2″ batik strips and a covered elastic band. Click for instructions
Turn on the sewing machine and stitch up a wrap skirt for the pool and beach. Add on some beaded strips for some sass and swing. Click for instructions.
Sew up some bohemian totes to finish the look!